(Spoilers ahead)
Super Mario Odyssey is the latest game in long-running Mario series which has been going on for over 20 years. The one thing I like about Mario is most of the games are consistent in quality, unlike that Blue Hedgehog we all know and love. And almost all of them are great to play and overall fun. Most of the Mario games still hold up today and are still a blast to play in this day and age. Mario Odyssey takes everything we love about Mario and mashes them together creating a fulfilling and satisfying experience and I can honestly say with confidence Super Mario Odyssey is by far the best Mario game ever made and Nintendo should be praised for their fantastic creation. Super Mario Odyssey is fun, creative and an absolute joy to play. 
Graphically the game is gorgeous. Environments are beautifully designed and the game looks gorgeous in docked and in handheld mode. The moons in this game are scattered all over the place and some of them can be hard to find. I'm not really a fan of collection type games but Nintendo just happens to make them "fun". Nintendo are complete geniuses when it comes to gameplay as seen in Breath of the Wild earlier this year and now this game. Super Mario Odyssey encourages exploration. The game may be short to some but if you actually spend time exploring the Kingdoms to the fullest you will really start to appreciate the Kingdoms. I spent 2 full hours alone exploring the Sand Kingdom to the fullest and every bit of it was enjoyable. I never got bored. 
Super Mario Odyssey is not a challenging game. Not at all. There are ways to make the game challenging but really this game isn't tough. The thing with this game is this game isn't easy in a "repetitive" type of way. This game is easy in a relaxing way. Super Mario Odyssey is a great game to just kick back, relax and explore. 
There are 17 Kingdoms in this game. And there are lots to do in each and every Kingdom. Even in the Cascade Kingdom. The story in Super Mario Odyssey isn't mind-blowing. If you've been playing Mario you'd know to never really take the stories in the games seriously. Though It would be interesting if Nintendo took a different approach to Mario's story. Yes, there is a wedding in the game but you still have the same goal. Princess Peach is still the main star. This isn't a "flaw" but the lack of Luigi in this game was saddening. Depressing even. That being said the inclusion of Pauline in this game was great. I'm so glad Nintendo brought her back
There is co-op in this game but it's pretty underwhelming, to be honest. Don't buy this game expecting a good multiplayer mode. Buy this game for the great single player experience.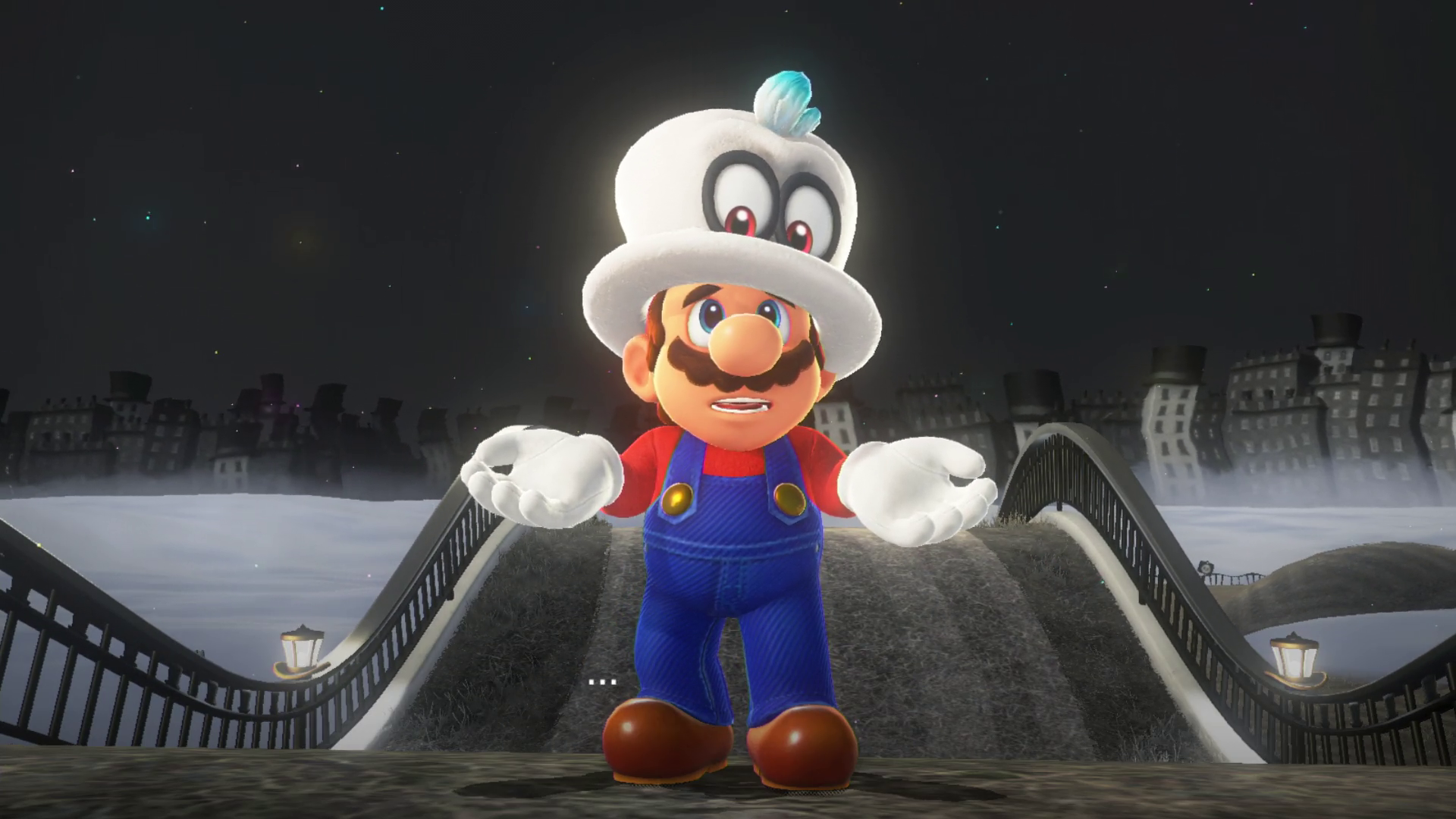 Cappy is an excellent new feature in this game. I would have never expected to ride a dinosaur in a Mario game but here it is. Yes, you can ride a dinosaur in this game. Strange I know but it's possible. I don't see Cappy returning in the future. But you know what that's fine. The thing I love about Mario is most of them are unique with unique features and power-ups. Though I am expecting Cappy to play alongside Mario in the next Super Smash Bros game. 
All in all Super Mario Odyssey is absolutely a masterpiece and is definitely the best Switch game available right now. If you don't have a Switch buy one! This game is not one to be missed!
Super Mario Odyssey is a masterpiece made for everyone. The best Nintendo Switch game at the moment.